The Bréhon Tower, also known as Fort Brehon, is a small fortress which is located on a small rocky islet in the Little Roussel Channel, which is part of the Crown dependency of the Bailiwick of Guernsey. Built between 1856 and 1857, previously there was only an obelisk that was constructed in 1744, however, due to the lack of visibility it was replaced by another object in 1824, so that it would become the tower we are able to see today.

With the growing concerns that the French are creating fortifications at the city of Cherbourg on the French coast, the British too responded in construction of several towers, among which is Bréhon Tower. The main designer of the tower was Thomas Charles de Putron, where the tower has three different levels.

The ground floor is reserved for the magazine, shell room, shifting room, stores, and fresh-water cistern, continuing with the garrison's living quarters which were located on the first floor and everyday rooms on the second floor. The top part of the tower would be the place where heavy guns were supposed to be put, but when the garrison fired the cannons for the first time, there was a serious problem in the structure, as a fracture appeared from top to bottom.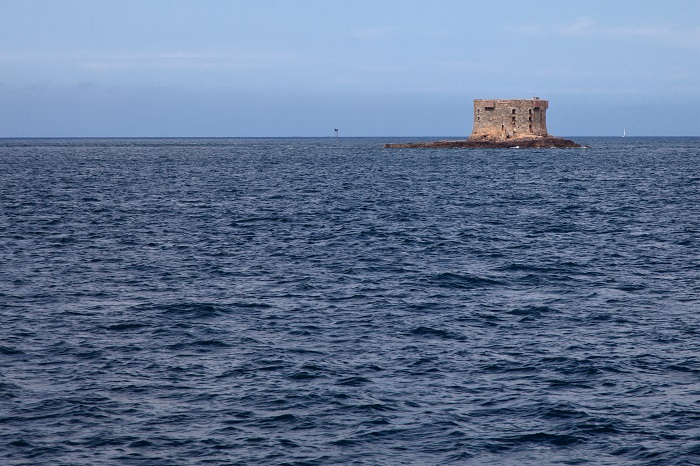 Throughout the years, the fort did not see some action, up until World War II when the Germans occupied the islands, where they put a small garrison with an anti-aircraft gun on the top which unfortunately shot down several planes. Due to the importance it has, this oval granite tower was listed as a Protected Monument on 30 September 1969, with recent plans for repairs in order for the history that Bréhon Tower has seen to be preserved for the future generations.