The UTA Flight 772 Memorial is most likely the most remote memorial built in commemoration of the victims of the flight UTA 772, located in the Ténéré Desert of the side of the Republic of Niger. Even though it is not a high monument, it is a large circle that is somewhat 61 meters (200 feet) in diameter, built entirely of dark stones which were brought from the family members of those who were in the flight that crashed there on 19 September 1989.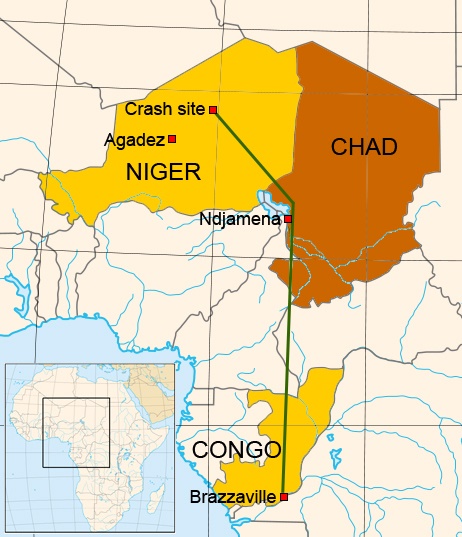 Built in 2007 by Les Familles de l'Attentat du DC-10 d'UTA, which is an association of the victims' families, giving it the shape and dimensions of the DC-10 airplane inside a compass, where one of the wings was used as a compass point, together with 170 broken mirrors, in order to reflect the victims of the crash. The airplane inside the compass points towards the last point of the trip, which was supposed to be Paris, France. As a matter in fact, on 19 September 1989, the French airline Union de Transports Aériens operated the flight UTA 772 which was a scheduled international passenger flight operating from Brazzaville in the People's Republic of the Congo, via the capital city of Chad, N'Djamena, with Charles de Gaulle Airport in Paris, being the last stop.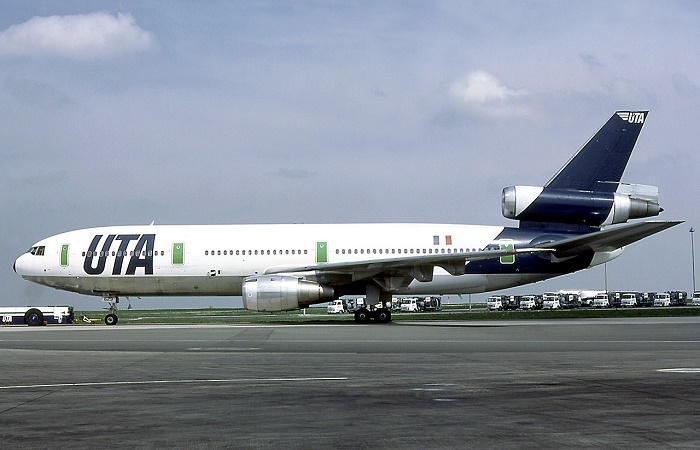 On the flight, there were 156 passengers and 14 crew members, which were killed due to the explosion that blew apart the plane over the Sahara Desert. According to the investigation carried out by the International Civil Aviation Organization (ICAO), it was determined that the deadly explosion had been caused by a bomb placed in a suitcase which was stored in the forward cargo hold. The finger was pointed at Libya and the six Libyans who were not extradited to the Paris Assize Court, where Lybia denied any involvement, even though it is considered to be the sole responsible country for the explosion, which had motives that are somewhat murky.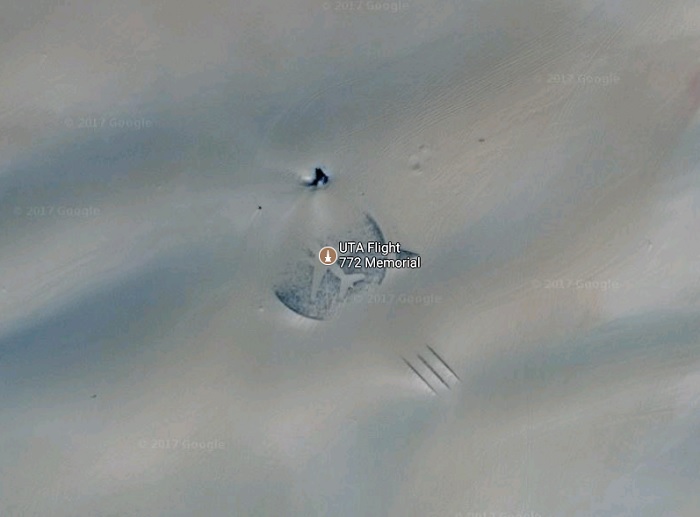 Some are suggesting that this was the revenge Libya wanted for the opposition it had from France during the Civil War that occurred in Chad. Nonetheless, the father of Guillaume Denoix de Saint Marc was on the plane on the day it crashed,  and Guillaume himself was the driving force behind the construction of the memorial. Still, the memorial is not built over the exact crash site, but some 10 km (6 mi) away from it, in order to retain the sanctity of the crash site. Not being maintained due to the location in the middle of the dessert, as it is visible on most maps, lately it has been covered with sand with the possibility to be forever lost in the ever growing sand.